Food Safety Cooperation Forum Partnership Training Institute Network
Concerns about food safety in the Asia Pacific region have risen sharply, and spurred a high level, collective mandate from APEC Leaders to improve food safety standards and practices. In 2007, after the establishment of the APEC Food Safety Cooperation Forum (FSCF), APEC Leaders agreed on the need to develop a more robust approach to strengthening food safety standards and practices in the region, using scientific risk based approaches and without creating unnecessary impediments to trade. To this end, they called for increased capacity building to improve technical competence and understanding of food safety management among stakeholders in the supply chain, which include regulators, growers, packers, handlers, storage providers, processors, manufacturers, retailers and food service providers.
The Food Safety Cooperation Forum's Partnership Training Institute Network (FSCF PTIN) was created specifically to address the need to engage the food industry and academic food safety experts with the regulators, to strengthen capacity building in food safety.
APEC FSCF PTIN Proficiency Testing of Veterinary Drug Residues in Food
Date: September 10-11, 2014
Location: Beijing, China
China led work on Proficiency Testing of Veterinary Drug Residues in Food. The focus was on an inter-laboratory proficiency testing (PT) program to determine veterinary drug multi-residues in animal origin products The goal was to further develop laboratory capabilities within APEC economies and improve the acceptability of test results with the result of providing solid evidence to facilitate animal origin products trade among these economies. Work was conducted in four stages over a nine month period that consisted of in-laboratory activities combined with two face-to-face events.
The following presentations were delivered at the culminating workshop that was held September 10-11, 2014, in Beijing, China.
Improving Food Safety in the Asia-Pacific Through the APEC Mulityear Food Safety Project
A small group of laboratory scientists from APEC economies carefully prepare 1.5 mL centrifuge tubes with a mix to detect Salmonella in food samples. As part of an ongoing Asia Pacific Economic Cooperation (APEC) food safety project, these scientists received training on innovative rapid detection methods for Salmonella and other pathogens in food. Building the capacity to detect, control and prevent foodborne pathogens, like Salmonella, has been at the core of APEC's initiatives to improve food safety in the region.
For the full article, please see the APEC news bulletin:
www.apec.org/Press/Features/2014/0918_foodsafety.aspx
APEC Economies Strengthen Food Safety Cooperation in APEC High- Level Regulator Industry Dialogue on September 12, 2014
On September 12, 2014, in Beijing, China, high level regulators and industry representatives met to discuss emerging issues in food safety and opportunities for regulator/industry dialogue and cooperation. The outcomes of this discussion are outlined in the Beijing Statement and will provide further opportunities for APEC work on food safety capacity building.
CCTV News aired a report on the APEC High-Level Regulators Industry Dialogue on Food Safety which occurred on September 12, 2014:
english.cntv.cn/2014/09/12/VIDE1410507840364135.shtml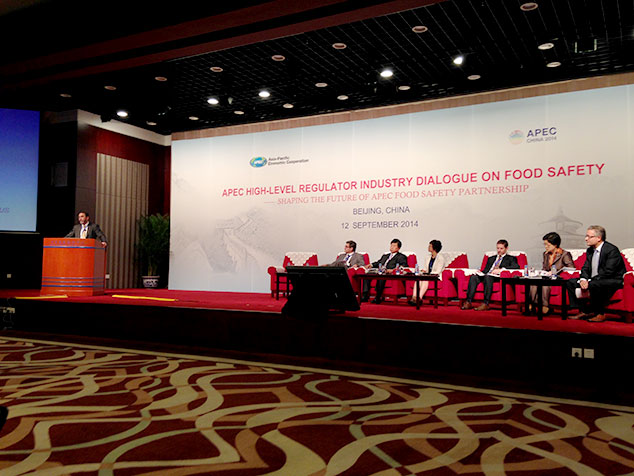 FSCF PTIN Aquaculture Modules Now Available
FSCF PTIN Aquaculture training modules are now available in English and Bhahasa. The aquaculture modules were piloted in Indonesia in June 2013 under the Global Food Safety Partnership in partnership with the Network of Aquaculture Centres in Asia Pacific (NACA). Training was implemented by a team of five experts and consisted of theory and practical sessions as well as plant visits. A total of 40 trainees participated and successfully completed the training program. About 20 came from seafood processing plants in Indonesia representing middle to senior level technical people with responsibility for food safety and HACCP implementation. Five came from aquaculture production sectors while another five came from government and academic sectors.
The freely available training course modules, developed by Michigan State University, originally for the APEC FSCF PTIN include:
Food Safety Practices for Aquaculture
Module 1: Introduction - Food Safety Issues in Aquaculture
Download: English Version | Bahasa Version
Module 2: Food Safety Hazards
Download: English Version | Bahasa Version
Module 3: Food Safety Practices for Aquaculture Production
Download: English Version | Bahasa Version
Module 4: Ensuring Food Safety during Post Harvest Handling and Processing
Download: English Version | Bahasa Version
Module 5: Food Safety Management Systems
Download: English Version | Bahasa Version
Upcoming Events
Proposed APEC FSCF PTIN Export Certificate Meeting
Date: October 16, 2014
Location: Brisbane, Australia
There will be a meeting of the APEC FSCF Export Certificate working group. This meeting will occur on the margins of the Codex Committee on Food Inspection and Certification Systems to take place in Brisbane, Australia. Working group members will discuss next steps with the export certificate work and possible input to the CCFICS meetings.
Food Safety Cooperation Forum and PTIN Steering Group meeting
Date: 2015
Location: Philippines
The next meeting of the Food Safety Cooperation Forum and Partnership Training Institute Network Steering Group will be held in 2015 in the Philippines.